Your tricision adapted to your needs
With myTricider Plus your tricisions fit to your style.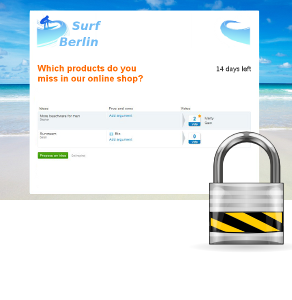 Ad free
No more distraction from advertisement in your tricisions
Password Protection
Extra security when you specify a password for a tricison
Secure Encryption
Connected with SSL-encryptions makes your tricisions as safe as online-banking
Your Design
Add your logo and a background image to fit your coporate identity
Analytics
See from where and when your participants answer your question and much more
No subscription. It ends automatically. Tricisions you created as a myTricider Plus user continue when your account ends. You can still manage them. They keep the password if you set one. Only the ads will re-appear and the design will revert to tricider standard.