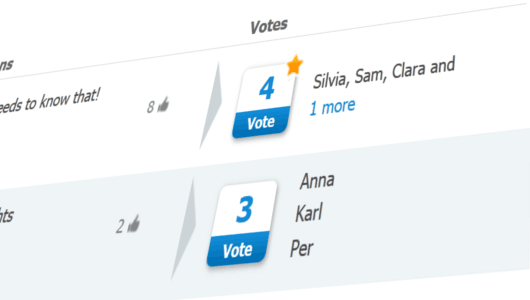 Find the best solution by involving your friends, colleagues or clients.
A feedback session with customers or the decision on the new logo. tricider is the easiest way, to gather all opinions and ideas. It´s brainstorming and voting, all in one and online! Even hard decisions can be easy with tricider.
Free and no registration.
Save time - discussing and voting online.
tricider is easy to use. In less than a minute, an online discussion is opened. This saves a lot of emails and phone calls. tricider is perfect for preparing meetings - or even to replace them completely.
Brainstorming without limits
Whether you want to collect ideas for best location for the next team event or vote for the new name and logo of your product: tricider provides the right features for any kind of question. You can vote for any kind of ideas, text, pictures or even links. Online and very easy to use.
That's what others say
simpel und genau deshalb sehr effizient
una ayuda para las decisiones en grupo
ideal candidate to be used for reaching a consensus
a really useful service [..] you will see how natural and comfortable everything feels
sehr praktische und unkomplizierte Lösungen, kreativ umgesetzt
Tricider [..] este genial servicio
makes group brainstorming on any topic really easy